The Seattle Land Use and Zoning Committee of the Seattle City Council is holding a Public Hearing on its proposed draft Tree Ordinance:
Wednesday, Sept 5, 2018
9:30 AM to 11:30 AM (sign up starts at 9 AM)
Seattle City Hall, City Council Chambers,
600 4th Ave, Seattle,WA 98104
Please come and testify or send a letter to the Mayor and City Council.
jenny.durkan@seattle.gov and Council@seattle.gov
Issues to comment on:
Allow more time for possible changes. analysis of impacts, and public input on the current tree ordinance draft by delaying final action to the beginning of 2019 as recommended by the Seattle Urban Forestry Commission (See more detail below)
Put back existing protections for Exceptional Trees –  "An exceptional tree is a tree that: 1. Is designated as a heritage tree by the City of Seattle; or 2. Is rare or exceptional by virtue of its size, species, condition, cultural/historic importance, age, and/or contribution as part of grove of trees ".  Lower the threshold for large exceptional trees to 24 " diameter at 54 inches high (DBH).
Limit removal of trees to no more than 2 per year on developed property.
Put back the prohibition on cutting down trees greater than 6″ DBH on undeveloped lots
Base tree permits on diameter and species of trees, not tree canopy measurements. 
Require all trees 6″ DBH and larger that are  removed to be replaced on site or off site or a replacement and maintenance  fee be paid to the city.
Require 2 week posting and yellow ribbons on trees for all permits for removal;, include on line public posting of applications and permit approvals.
This last Friday the Seattle Urban Forestry Commission voted unanimously to urge the City Council:
"to extend the public comment period and allow for more evaluation of the proposed ordinance. Revising the tree code for Seattle is long overdue and nearly a decade in the making, however, the UFC believes fully understanding the potential impacts, incentives, and enforceability of the draft code will take more time than is currently planned for in this process. Please move the final decision on this to 2019 to allow for additional consideration, definition, analysis, and public input on the impacts of such policy proposals. One public daytime hearing on a still being revised draft is not adequate public involvement on a major policy issue affecting all property in the city."
You can read the Seattle Urban Forestry Commission's full recommendations here :
  "LEG Tree regulation updates ORD D7" and August 16, 2018 Central Staff Memo "Summary of proposed tree regulation bill and identified issues"
Thanks for your support and help.
Steve Zemke – Chair TreePAC
Chair – Coalition for a Stronger Tree Ordinance – a joint coordinating project of the Friends of Seattle's Urban Forest and TreePAC.org  www.friends.urbanforests.org and  www.TreePAC.org
PS – Please help support our efforts to protect trees by making a contribution to TreePAC today.  Click here –
 Donate

Campaign Continues to Update Seattle's Tree Ordinance
LATEST NEWS (8/29/18): DETERMINATION OF NON-SIGNIFICANCE RELEASED ON NEWEST VERSION OF TREE REGULATIONS ORDINANCE

Summary:
Seattle City Councilmember Rob Johnson's relentless push to repeal Seattle's current Tree Protection Ordinance SMC 25.11 has advanced with the release of final language for the proposed new Ordinance (Version D7 – https://www.seattle.gov/council/meet-the-council/rob-johnson/trees-for-all)
Unfortunately the Seattle City Council's latest version of an update to the current Tree Protection Ordinance  has changed to what we consider a "Tree Removal and Mitigation Ordinance." There is a big difference between proactive tree retention/protection vs mitigation, which occurs after a tree is cut.  The current proposed ordinance:
Removes any limit on the number of trees that can be removed per year;
Removes the prohibition against cutting down exceptional trees (which are the largest of their species) on developed lots. The definition of exceptional trees includes Heritage trees and tree groves; and
Removes the current prohibition of cutting down any tree over 6″ in diameter (DBH) on undeveloped lots. 
Other details are seen below the meeting announcement – Please try to attend either or both of the meetings below and make your voice heard!
1) The Coalition for a Stronger Tree Ordinance public meeting:

Saturday, Sept. 1st from 11:15 AM to 1:15 PM 
Green Lake Public Library, 7364 East Green Lake Dr North, Seattle WA 98115 
Please come to learn more about what is happening, to voice your  opinion and discuss what actions should be taken.
Bring a laptop or device so you can write and send some e-mails on this issue.
2) The Seattle Land Use and Zoning Committee (PLUZ) is holding a Public Hearing on the draft ordinance 
Wednesday, Sept. 5, 2018  9:30 AM to 11:30 AM (sign up starts at 9 AM)
Seattle City Hall, City Council Chambers,  600 4th Ave, Seattle,WA 98104
Please e-mail us at steve@friends.urbanforests.org to let us know if you can testify 
additional details (continued from above):
Other provisions add very complex requirements for property owners to calculate canopy coverage themselves, contain no guarantees or funding for increased enforcement and essentially would leave most of the City's trees vulnerable to being cut down at a time when increased fires, adverse climate change impacts and problems associated with stormwater pollution are top of mind and serious city and regional issues.
The proposal would add some long needed updates to current code but these changes should be in addition to the current protections, not in place of them.
On balance the proposed new ordinance's emphasis is on making it easier for development to occur, not on protecting existing trees. Once a mature tree is taken down and replaced by a 2 inch sapling, the full benefits and functions of that tree will not be realized for the decades it takes to replace trees removed. During that time, the City would then suffer from the supercharged effects of climate change in the absence of this mature tree canopy. The City has a notoriously poor record of tree replacement. For 17 years the Seattle Planning and Inspection Department, and its previous incarnations,  has not enforced an existing provision in the current Tree Protection Ordinance, SMC 25.11.090, which required developers to replace exceptional trees and trees over 24″ DBH.  The City also has failed to create or maintain any record of the thousands of trees that have been cut down n private property and during development for those 17 years.
Here are the links to the current documents regarding the proposed repeal and replacement of SMC 25.11 – Tree Protection Ordinance.
The operating document is now the August 16, 2018 Draft (Version 7 b)  Ordinance for Repeal and Replacement,
 What  is added, changed or removed:
·         added – requires permits for removing trees greater than 6″ DBH in all zones of city for both developed lots and lots undergoing development. Separate permits established for major and minor tree removal
·         added – requires tree replacement if canopy falls below Urban Forestry Management Plan canopy goal for zone that lot is in
·         added – requires tree replacement for all lots where canopy falls below Urban Forestry Management Plan (UFMP), either on site, off site or pay fee in lieu if trees cannot be replaced on site
·         added – tree care providers must sign statement they  have read and are familiar with tree regulations
·         added – increases penalties for illegal tree removal, including not getting a permit
·         added – on site posting required (2 days – minor permit, 2 weeks – major permit)
·         major change –  going from a concept of permits for tree removal based on the species and diameter of a tree at 4.5′ to measuring  the amount of canopy removed.  Property owners would have to determine the area of their lot, add the area of their right of way which is city property,  measure all the canopy of the trees on their lot and the right of way, measure the canopy of the tree or trees they are removing, subtract it from the overall canopy measurement , then check it with the canopy goals for the zone they live in and if the remaining area is under the canopy goal, replace the tree or trees on site, off site with the ensuing estimated canopy reaching in time the lost canopy or pay a fee in lieu. Right of way tree planting and removal is not covered by this permit however as SDOT has its own tree permit system and City Light can prune and remove trees.
·         major problem with this approach as written is that it says no tree replacement is required as long as the trees removed and their canopy does not reduce the lot coverage below the zone goal in the UFMP.  Since the zone goal is an average based on the total canopy coverage divided by the area of the zone, not replacing trees removed over the average value for the zone  means the actual zone canopy over time will result in a net loss of tree canopy.
·         major problem – Using LIDAR studies to measure  tree canopy in a zone is not a precise measurement  as LIDAR measurements are really a vegetation cover analysis, not a tree cover analysis. The 2016 LIDAR analysis measured canopy at 8 feet which can include a lot of shrubs like laurel bushes. This distorts the actual tree canopy per cent for zone goals and is an additional problem if these measurements are used to determine lot coverage. The accuracy of the measurement decreases with a decrease in the sample area.
·         major problem –  Trees cross property lines. A tree trunk may be on one lot, the tree's canopy can actually be on two or more lots depending on location of the trunk.The city should stick with tree removal, not canopy removal which crosses lot lines. Also canopy is an area measurement based on branch sizes. Tree canopy volume and leaf density is the true measure of ecological services and that varies with the tree species and age of the tree.
·         changed – SMC 25.11.090 required developers to replace all trees over 24′ DBH and that are exceptional. The proposed ordinance  replaces it with requiring developers to replace all trees over 6′ DBH but only up to the canopy goal in that zone. This will result in a net loss of trees where the original canopy is greater than the average for the zone. (Note – SMC 25.11.090, requiring developers to replace all exceptional trees removed and trees over 24″ DBH was not  enforced by the Seattle Building Department it appears since it was passed in 2001).
·         removed – designation and protection of exceptional trees which are the largest trees of a species. The current ordinance said developed  property owners can not remove exceptional trees unless they were hazardous. The change in the draft  significantly reduces protection for large trees. From Director's Rule 16-2008 – "An exceptional tree is a tree that: 1. Is designated as a heritage tree by the City of Seattle; or 2. Is rare or exceptional by virtue of its size, species, condition, cultural/historic importance, age, and/or contribution as part of grove of trees and trees …"
·         removed –protection of tree groves (they were added as exceptional in 2008). Tree groves would no longer be protected.
·         removed – a limit of 3 trees per year being removed  which were significant (over 6 " DBH) but not exceptional. Draft sets no limit on number of trees that can be removed or any limits on the size or age of the tree.
·         removed – prohibition of cutting down any tree over 6″ DBH on an undeveloped lot. Limit would now be by zone allowing a fully treed lot to have its  canopy reduced significantly without requiring tree replacement above the canopy goal for that zone, eg  100% canopy cover to 20% in the multifamily zone would be allowed with no replacement required.
The most recent ordinance change was made in the last 2 weeks of summer (coincidentally during the worst smoke pollution we have ever experience), with only ONE hearing date scheduled for September 5th, a day after people  return from a federal holiday.
Unfortunately with the major changes proposed and the lack of real public outreach and discussion of possible alternatives and their impacts, the city needs to slow down and allow a careful evaluation of these changes. It should prepare an environmental impact statement.  Rather, it issued what is called a Determination of Non-significance under our state Environmental Policy Act law, called SEPA. This ordinance will have major and anticipated, catastrophic impacts on the future of the trees and urban forest of this city.
A strengthened tree ordinance would have restored the removed provisions mentioned above from the current ordinance and required tree replacement for all trees removed over 6″ DBH either on site or off site in all zones, regardless of whether it is a major or minor permit, while keeping the canopy goals for coverage of lots.
The city has chosen not to do that for some reason despite urging by the Seattle Urban Forestry Commission, citizen groups, environmental experts and individuals. However, as written right now, it would significantly reduce  protection for existing large trees and allows canopy coverage to decrease in zones. A Douglas fir that is 80 years old that is cut down takes 80 years to replace an equivalent canopy of just the canopy removed when the tree was cut down and not counting the canopy that would have increased if the tree had not been removed.Every tree removed is a loss to the existing canopy coverage and only over a long period of time can it be replaced. Not all trees replaced survive.
Implications for Seattle's Tree Canopy goals
Using canopy goals in the 2013 Urban Forest Stewardship Plan (UFMP) would result in lower goals than actual canopy cover measured in 2016 LIDAR Study in 2 zones. Institutional canopy cover measured in 2016 was 25%, UFSP goal is 20%. Multifamily canopy cover measured in 2016 was 23%, UFSP goal is 20%. LiDAR study also showed higher canopy cover in Developed Parks and Parks Natural Areas than listed as canopy goals.
The Urban Forestry Management Plan is currently being updated and the zone goals could increase. Canopy measurements are actually an average value across a zone meaning lots with more trees average out with lots with less trees – all lots do not have identical canopy.
The City's Own Tree Regulations Research Project Points Out Weaknesses
According to the Tree Regulations Research Project Phase 1 Summary, the city deals with about 10,000 permits/year. A recent Seattle Times article put the building permit number last year (a busy one) at 7,000.  Most of these have trees associated with them. There is ONE arborist working for the Seattle Department of Construction and Inspections (SDCI) where the tree regulations are developed.
The proposal for major tree permits under the current draft, most of which would occur during development, would require a detailed tree inventory and tree report identifying trees on site by species and size, so identifying exceptional trees would not be a  problem. People could use an app like Find It, Fix It that the city has for repairs to send a photo of the tree and a close up of its leaves or needles to help identify it when they request a permit to remove a tree. a
The city has not kept track of trees lost or replaced  during development and appears not willing to really do so here as it does not propose one system for tree permits and keeping track of results but will let trees be removed during development by being "included with another SDCI approval."  That approval system has not tracked tree loss and replacement to date and under its current Accela data system being used is continuing that trend even though it has the authority  under SMC 25.11 to issue permits and keep track of them.
The ordinance also purports to have a parallel permit system for "minor" tree removal permits. This permit does not require tree identification and the City claims that "it will be too difficult to determine tree species."  Rather, it has foisted an arcane tree canopy measurement and calculation system onto the property owner but which all but guarantee an unenforceable gaming of the system. Again an app allowing property owners to send pictures of the tree to the city with their application for a permit would solve this problem. 
Council member Johnson's Trees for All  Timeline now has scheduled only a single Sept 5, 2018 public hearing and possible vote by the Planning, Use and Zoning Committee on Sept 19, 2018. If the full Council does not vote by the end of September this proposal will be back before the Council in January as they deal with the budget for next year in October and November.
 Please Act Now By Writing
Now is the time to let Mayor Durkan and the Seattle City Council know that the current draft is not acceptable as proposed but needs to be thoroughly and carefully evaluated and revised. Send e-mails to  jenny.durkan@Seattle.gov and Council@Seattle.gov  Current protections that were removed need to be added back. The ordinance  needs to be based on individual tree removal, not canopy in terms of replacement. All trees removed must be replaced to ensure a no net loss of canopy over time.
The city needs to slow down and allow adequate public debate and  discussion on this major citywide issue that will have a significant impact on our urban forest. It needs to do an environmental impact statement, evaluating the current ordinance, the proposed replacement ordinance and a third alternative. Since the city has released a determination of non-significance in its SEPA decision, unless the city withdraws its conclusion, it will be necessary to appeal their decision to the city hearing examiner, asking that an Environmental Impact Statement (EIS) be conducted.  That must be done within 3 weeks of the release of the DNS, which would be September 13th.
You can make a donation to our effort by clicking here!  Thanks

We would like your organization to join with us and others to strengthen our coalition effort to coordinate and carry out a focused effort to update our outdated tree ordinance, last passed in 2009 as an "interim ordinance".
It is important that organizations that have been working on trying to increase tree and urban canopy protection meet and work together to have an impact on shaping and passing this legislation. TreePAC and Friends of Seattle's Urban Forest have been meeting for several months as part of a Seattle Tree Ordinance Working Group. This group has now become the Coalition for a Stronger Seattle Tree Ordinance and currently has 19 supporting groups.
Go to Action Needed Now to Protect  Seattle's Trees and Urban Forest – to see
the letter to the Mayor and City Council urging action on updating our current tree ordinance that we are asking organizations to sign onto.
Steve Zemke Chair TreePAC and Friends of Seattle's Urban Forest steve@friends.urbanforests.org
Reference material:
Background reference material:
The following letter has been drafted and organizations and individuals are being asked to join in supporting updating Seattle's Tree Protection Ordinance by sending this letter with your comments to Mayor Durkan and the Seattle City Council.
Action Needed Now to Protect Seattle's Trees and Urban Forest
Dear Mayor Durkan and Seattle City Council Members, 
We urge you to provide strong leadership now to significantly strengthen Seattle's tree ordinance to protect our trees and urban forest. 
Seattle's urban forest is an integral and vital part of our city.  It provides many benefits and amenities to those living in our city.  Trees help clean our air and enhance public health, reduce stormwater runoff, mitigate climate change, increase property values, decrease the impacts of heat and wind, provide habitat for birds and wildlife and give us a connection with nature in our neighborhoods.
Seattle's rapid growth is reducing these beneficial impacts as trees are removed, particularly during development across our city. It is urgent that you act now to stop the loss of trees, particularly exceptional trees and tree groves, and to promote environmental equity as we increase our tree canopy.
We urge you to act now by updating our current tree ordinances and regulations as follows:
Adopt a policy of a net increase of Seattle's tree canopy each year to reach the city's current goal of 30% tree canopy.  This requires maintaining and strengthening current protections for both significant and exceptional trees, tree groves, Heritage trees, environmentally critical areas and natural areas.
Require the replacement of all trees removed that are 6" DBH and larger with equivalent sized trees (e.g. small, medium or large) – either on site:  or pay the replacement and maintenance mitigation costs into a City Tree Replacement and Maintenance Fund. Allow the Fund to accept fines, donations, grants and for acquiring land and setting easements and Tree Protection Trusts.
Expand the existing tree removal and replacement permit, 2-week notice and posting system used by SDOT – to cover all public and private trees 6" DBH and larger on both public and private property in all land use zones. Allow removal of no more than 1  significant non-exceptional tree per year.
 Establish one citywide database when applying for tree removal and replacement permits and to track changes in the tree canopy.  Post online all permit requests and permit approvals for public viewing.  Expand SDOT's existing tree map to include all the trees in the city that are removed and replaced.
Require a detailed Urban Forest Canopy Impact Assessment for all development projects prior to any development beginning. This detailed tree inventory should be entered into a public database.  Replacement trees should be based on equivalent tree size at maturity.
Expand SDOT's existing tree service provider's registration and certification to include all tree service providers working on trees in Seattle. 
Consolidate tree oversight into one city entity: The Office of Sustainability and Environment, as was recommended by the Seattle City Auditor in 2009.  Give OSE the additional authority needed to ensure that trees have an independent advocate for their protection to avoid conflicting goals in other city departments.
Emphasize native trees and vegetation, particularly conifers, to maximize sustainability and environmental services.  Require the removal of invasive plants during development. Increase incentives for protecting trees and provide public assistance for property owners who need help complying with the city ordinance. To increase compliance increase penalties, fines and enforcement. Ensure environmental equity in maintaining and increasing our tree canopy across the city.
How you can help:
You can cut and paste the above letter in an email with your comments and send them to jenny.durkan@seatlle.gov and council@seattle.gov 
——————————————————————————————
---
TreePAC is making change happen
"Are you tired of pleading, asking, arguing and proving that trees have public value? Join TreePAC and make change happen. Together we will be a lobby as powerful as the sports lobby."  Cass Turnbull, TreePAC founder.
---
Do you feel like this sometimes?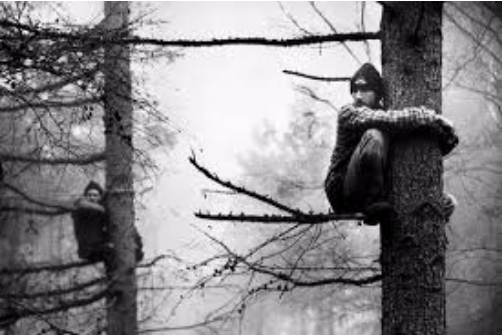 Together we can save more trees. Join TreePAC.
SELF- EVIDENT TRUTH: The Urban Forest is essential.
Trees save money through their green infrastructure services. They reduce stormwater run off, mudslides, urban flooding, soil erosion, and reduce energy costs by moderating the local climate.
Trees are good for the environment: they increase bio-diversity, protect habitat, pollinators, and wildlife. They provide for a cleaner Puget Sound, and they mitigate the causes and effects of global climate change.
Trees improve community and health—they create walkable/bike-able streets, stewardship and recreational opportunities; reduce noise pollution; improve property values and community pride. Trees provide beauty and solace for all.
MISSION STATEMENT:  The TreePAC mission is to influence the government to protect, maintain and increase the urban forest.
We contribute to candidates, lobby policymakers, and raise awareness of Urban Forestry issues. We do so by attending meetings and hearings, sending emails, holding protests and media events, and by adopting tree preservation projects. Always we will fight for better laws, funding, and enforcement.
TO JOIN 
In order to succeed–and we will succeed–we need everybody who cares about trees to join. To support TreePAC please join by sending your check for $25 or more to:
TreePAC                                                             
Judy Olson – Treasurer
1529 NE Elshin Pl                                             
Seattle, WA 98125   
Click on the following  link and print out the information form and include it with your check.  Thanks.                                     

   Note: We do not share your contact information with others.
---